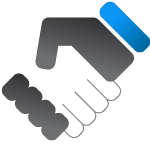 Cyclechex Strategic Alliance Partners
Strategic partnerships with complementary organizations are critical to providing superior products and services.
Cyclechex believes that alliances is the best way to achieve many of our goals. We pursue strategic alliance relationships that complement our core products and innovative solutions.
Cyclechex is pleased to partner with the organizations listed below:
Allstate Motorcycle Insurance
Allstate Motorcycle Insurance delivers the coverage you need and the discounts you deserve. Most important, Allstate doesn't just protect your bike, we also protect the rider. Our innovative product offers coverage options including the Allstate Rider Protection Package, and with our Genuine Parts Guarantee your bike will always be fixed with original parts.
Looking to customize your ride? Our optional coverage for custom parts is an easy way to help make sure your aftermarket add-ons are covered. Your bike fits you perfectly. So should your insurance coverage. Call 855-454-2931 or visit us online to get a quote today!